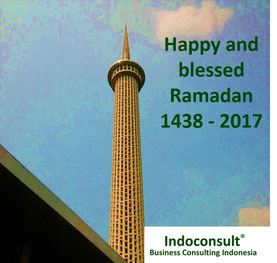 Muslims all over the world will celebrate the month of Ramadan starting on the 27th of May. 
Also in Indonesia, the country with the biggest Muslim population Ramadan (or Ramadhan) is an important time in the year. 
For one month Muslims will be fasting from sunrise till sunset. Ramadan is not only a time of fasting, but also of contemplation, worship and intensive remembrance of Allah and last but not least a time for family and friends. 
---
One of the pillars of Islam is the fasting during the month of Ramadan. This month is determined by the moon calendar and moving from year to year. In 2017 Ramadan will start on 27th of May and will last until the 24th of June. Right after Ramadan the highest Islamic feast of Eid-al-Fitr (or Idul Fitr) will be celebrated by Muslims all of the world on the 25th of June, which is the first day of the Islamic month of Shawwal. 
During the fasting period, Muslims are not allowed to drink, eat, smoke or have any sexual activities during the day. By restraining from these things one should spend the time in contemplation, remembrance of Allah and focus on the religion. 
At the end of each day the breaking of fasting (Iftar) is a joyful event. Families and friends gather together for lots of food, prayers and chants.
---
Why do Muslims celebrate Ramadan
As mentioned already, fasting is one of the duties of each Muslim who is capable to do it. People which suffer from severe sickness, pregnant women, children and people which are  not in full possession of their mental strength and are exempted from this duty. 
In accordance with Islamic tradition Ramadan is the month where the holy book of Islam, the Quran was revealed to mankind. This as well as the command for fasting during Ramadan is stated in the Quran.
"The month of Ramadhan [is that] in which was revealed the Qur'an, a guidance for the people and clear proofs of guidance and criterion. So whoever sights [the new moon of] the month, let him fast it; and whoever is ill or on a journey - then an equal number of other days. Allah intends for you ease and does not intend for you hardship and [wants] for you to complete the period and to glorify Allah for that [to] which He has guided you; and perhaps you will be grateful." (Surah Al-Baqarah 2:185)"
Beside the abdication from fleshly joys, Muslims should also restrain from slander, lies, and insults of all kinds during this holy month.  
---
We wish all Muslims a happy and blessed Ramadan 1438 - 2017!
May your fasting be accepted and rewarded. 
Selamat menjalankan ibadah puasa Ramadhan 1438 - 2017!
---