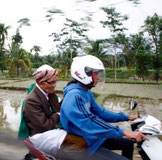 When I started working with Indonesia in 1997 as a project logistics manager for a big German company, the country was far out of my scope – and I was far from knowing a lot about it.
Keeping busy with handling tons of project equipment, arranging import and customs procedures, and makings sure my job was done, I did not realize, or maybe did not care about, what was going on during that time and what impact it would have to Indonesia's future and thus, to my career and life.
---
Of course, we watched the Asia Crisis carefully, which also affected our project in Indonesia. But we were quite confident that the effects to Indonesia and our client, which was a state-owned enterprise, would not be that dramatic. Then the Rupiah dropped in value and we knew that serious problems were ahead. Nevertheless, our project continued, and there was no sign that things could become more dramatic.
In January 1998, the situation seemed to cool down a little, when the IMF announced to initiate the second installment of its emergency program and the IBRA(Indonesian Bank Restructuring Agency) was established. Due to the fact that President Suharto was reelected in February 1998, it all seemed like a hick up in the world business. But, suddenly, things happened and changed the whole country long term. In April / May 1998, student demonstrations started in all big Indonesian cities.
What began as an upheaval against bad financial conditions turned into a rage against the political establishment, the so-called New Order (Orde Baru) and its head figure Suharto.
---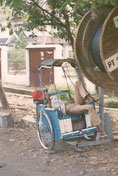 One project was almost stopped, supplies from Europe were cancelled, and my workload slowed down to a minimum. Overwhelmed by the protests I saw on television, by the political elite who struggled to get the situation under control, and by the fears and hopes I heard from my Indonesian colleagues, I began to learn about the country, its structure, and its people with their dreams and expectations.
Things ended or started with the Trisakti incident ("Tragedi Trisakti") on 12 of May and the following resignation of Suharto on 21 of May 1998 ", which both became the news headlines. The man, who led the country for over four decades, suddenly released this country into an unpredictable future.
To make this history lesson short: B.J. Habibie took over and built the road for a free democracy, a free market, and free people. Within 517 days, he had to transform his country into an internationally accepted democratic country with free markets, while still struggling with the Asia Crisis and an economical decline. In 1999, the first elections after the collapse of the New Order took place and the country started to develop on the fast lane.
---
I followed this development throughout the years and what I saw, heard, and learned from Indonesia influenced me a lot. In 2000, I worked in Makassar. At that time, there were no shopping malls, only one shop, which could be called supermarket, and it was more than adventurous for a foreigner to stay and live in Indonesia. Jakarta was still the country's center, but more or less a big crowded accumulation of kampungs (villages), compared to the mega city it is today.

The political scenarios in Indonesia developed faster than in any other country I know. Soon after the first democratic President did not perform as people had expected, a new president came in 2001. The youngest daughter of Indonesia's founding father, Megawati Sukarnoputri, was put in charge. Long before Germany was ready for a female head of state, the country with the largest Muslim population had a female president. Indonesia turned very fast from a centralized and state-controlled country to a capitalistic market, where everyone tries to get a big slice of the prosperity cake.
Many succeeded, but many failed, and became losers of the democratic and free system, as it happens in many countries where systems change quickly. But in this article, I do not want to give a statement on the gap between poor and rich, or government social responsibility, even if this is still and more than ever an important topic for Indonesia. It is just a foreigner's point of view on how fast things developed and what impressed me.
---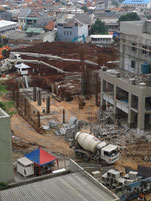 The shopping malls in Jakarta and other cities rose out of nothing. When driving through Jakarta, each empty piece of land was for sale or there were already tons of building materials for the next skyscraper to form a new city. In 2003, it was still difficult for a foreigner to go shopping at the supermarket, because there was only one supermarket chain in Indonesia.
Nowadays, you can find within 500m on every road and every village an Alfamart and Indomaret, right across each other, to buy things for your basics needs. While it was dramatic for a foreigner, with shoe size 44 to find even sandals in a mall or shirts in the local size XXL to fit a standard European of 190 cm, today, you have too many shopping options, so that it's easier to go shopping online. Back then, expats secretly exchanged information about restaurants, where they could find European-style food at affordable food court prizes. Now there are plenty of options at affordable prices.
---
Even the very well known poor infrastructure improved dramatically within a decade. Mobile phones are life essentials in Indonesia. Today, you have mobile Internet coverage on the smallest island at 10 times the speed of an Internet connection in a German city. When I spent holiday on the island of Lombok in 2000, I had to walk up the road for about 1 kilometer from my house to get, at least, the possibility to make a phone call within Indonesia. International calls were impossible without a public Wartel (telecommunication counter).
In 2014, I visited the same house again - and I even could login to my neighbor's WiFi hotspot, if I didn't want to use the 14.4 Mbps my mobile provider offered me.
---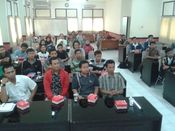 Another thing that impressed me the most is the change in the minds and hearts of people. My first contact with young Indonesians, between the ages 20 to 25, in 1997 was kind of irritating. Although I was the same age, everybody treated me with utmost respect and polite distance, like I was an old, wise man.
To talk to students was nearly impossible, because they either started to laugh shyly behind their hands or simply because talking to a foreigner seemed impossible for them. Thankfully this also changed over the years. When I gave my first lecture at an Indonesian university in 2010, approximately 60 students stared at me for almost one hour. There were no questions, no interruptions. I even thought that no one really participated in that lesson.
I only felt 120 eyes staring at me, like I was an exotic animal, which got lost in a university seminar. From year to year, the students became more open, started to ask questions, a little shy at first, but they did, expressed their opinions after class on what I taught. They even questioned what I explained to them during seminars until openly talking to me about lessons, politics and more, whenever they met me on campus. The students, who started the change in 1998, transformed from collectively input takers to critical, self-confident and proud citizens of Indonesia. And I, personally, think that this shows how a country transformed fundamentally within 15 years.
---
In 2014, those young students elected a new president, who will lead the country into its future and decide what have been positive and what have been negative developments over the last 15 years.
I, personally, look forward to a bright and prosperous future of Indonesia, to the welfare of its people, the prosperity of its economy, and to the ambitious targets the country has set itself for the next decade.
Article by Christian Hainsch - 2014

---