You are on your way for a business trip to Indonesia. The meetings are scheduled, flights and hotels are booked and you have prepared your agenda.
But what about the Do's & Don'ts when meeting with Indonesian business partners? What do you have to take care about? What do you need to pack in luggage to be dressed appropriate? Our new blog series should give you an overview about the basic cross-cultural issues for Indonesia and help you to navigate trough the cultural topics when doing business in and with Indonesia. 
In this article you can find some information about how to dress and what to pack in your luggage.
---
What to wear?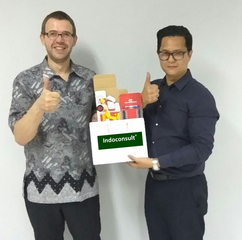 MEN WEAR LONG
If you pack your bags for a business trip to Indonesia, you don't have to change the choice of your business outfits. Simply bundle some suits, shirts and appropriate footwear. Wearing a tie depends on the situation in Indonesia. Make sure that you take some more shirts with you than normally. The heat and humid climate will make you sweat easily and you might need to change your shirt more than one time a day. When choosing your clothes you should definitely have in mind that in Indonesia status is also  expressed by the way you dress. For men, it is important to carry a high quality watch, for example. When you wearing a suit, combine it only with long-sleeved shirts, even though it can get very hot in Indonesia. In some offices it might be possible to wear short-sleeved shirts but never combine them with a tie. If you decide to use a casual shirt with short-sleeves make sure that it is appropriate.
OR BATIK!
If you are brave or already staying a long time in the country, then you can wear a traditional batik shirt and combine it with dark pants. What might look like a leisure outfit to a westerner is absolutely suitable for business and official events in Indonesia. And when wearing a batik shirt you do not only show that you know about the local business attire, it is also an appreciation to one of Indonesia cultural heritage, the art of Batik. Wearing a long-sleeved or short-sleeved mostly depends on the situation. For your daily office routine a short-sleeved Batik is fine. For formal meetings, events or dinners you should choose a long-sleeved one! If the event is very formal (business attire or formal attire) you should pick sober colors (brown or black) and a discreet pattern. Batik shirts fit in each situation, are practical and show that you regard the Indonesian culture. Oh yes, one final thing. Never ever put the shirt into your trousers. Batik is worn outside.
---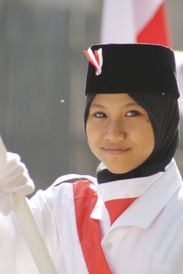 FOR WOMEN – DON'T TAKE IT TO SHORT
Women should wear a costume or a business dress for meetings and in the office. If you like to wear skirts, then please make sure that they are not too short. The hem should close to the knew or even below. Combine it with a blouse with a moderate neckline and a discreet makeup. Maintain a fashionable handbag to your outfit and also choose your jewelry carefully.
Remember that your appearance symbolizes your status and Indonesian women care a lot about that. Of course you also can wear one of the wonderful Batik shirts for women as well. For a women it is fine to wear them short-sleeved. Another topic goes with your shoulders. Even if it is very hot and humid in Indonesia it is not appropriate to wear shoulder free tops or lace tops. The shoulders should be covered at all times and you will also start doing it yourself once you have spent more than an hour in a climate cold meeting room or mall. 
---
THE SHOES
As for shoes, you should not wear sandals or other open-toed shoes for business meetings or presentations. This applies not only for women but also for men. Feel free to slip under your desk in a few open-toed shoes, but for meetings the toes should always be covered by the shoes.
---
---
---